As part of a redesign of the TGRC website, several new query functionalities were added that should make it easier to find and display desired accessions.  The page displays across the entire website are now dynamically resized or reformatted to optimize readability on mobile or desktop devices. 
On the Accession Search page (under Database Queries/Accession Search on the main menu) we added a Simple Query that provides an unstructured search of multiple fields. This query searches for a match in accession number, other identifiers, traits, cultivar name, comments and other fields.  Also, searching by accession number now returns partial or imperfect matches (e.g. entering "LA 407" finds "LA0407") and/or related accessions (e.g. entering "LA1777" returns LA1777 as well as LA1777-derived prebred lines, below).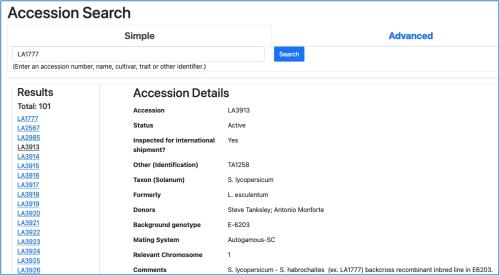 The Advanced Query option now includes the ability to search for specific alleles of each gene (also implemented on the Images Query page), and to search by accession donor/collector (see circled areas below).  And most of the search pages incorporate a "Hide Search" button to free up space when viewing search results. 

The map display of accessions with geographic coordinates (i.e. lat/lon values) now plots other active accessions of the same species, with a flag marking the current accession and blue pins for the other accessions (see below).  This feature makes it easy to find related accessions based on their geographic proximity, river drainage, or other features visible in satellite view.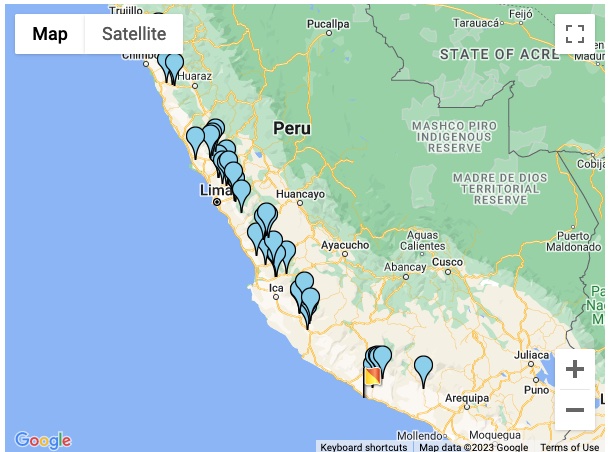 Finally, the GIS Maps page (under Database Queries/GIS Maps) now has an option to search for accessions by the elevation (in meters above sea level) at which they were collected.  This provides a way to find low or high altitude populations, for example.  
Many thanks to James Cubbage our web applications programmer for adding these and other useful features.
(updated 7/27/2023)