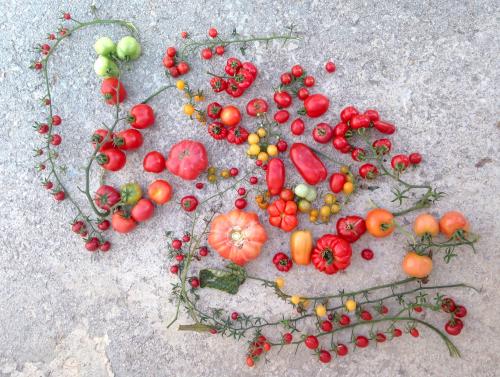 The 'Varitome' Core subset is a collection of 138+ accessions of S. pimpinellifolium and S. lycopersicum (both large fruited and cherry sized tomatoes) from Peru and Ecuador designed to capture genetic variation within the early domesticated forms and their wild ancestors. This set of accessions has been sequenced and phenotyped for fruit quality other traits as part of the Varitome Project, led by Esther van der Knaap at the Univ. of Georgia. Many of the accessions were donated by Maria Jose Diez with the COMAV genebank at the Univ. of Valencia, Spain.
For a complete listing of the Varitome accessions, go to Database Queries/Core collection and mapping populations and select 'Varitome core'.
Detailed phenotypic and passport data on these lines are available in the supplementary materials in the paper by Mata-Nicolás et al. 2020.
---
References:
Gao, L., Gonda, I., Sun, H., Ma, Q., Bao, K., Tieman, D.M., Burzynski-Chang, E.A., Fish, T.L., Stromberg, K.A., Sacks, G.L., Thannhouser, T.W., Foolad, M.R., Diez, M.J., Blanca, J., Canizares, J., Xu, Y., van der Knaap, E., Huang, S., Klee, H.J., Giovannoni, J.J., Fei, Z. (2019) The tomato pan-genome uncovers new genes and a rare allele regulating fruit flavor. Nature Genet 51, 1044-1051.
Mata-Nicolás, E., Montero-Pau, J., Gimeno-Paez, E., Garcia-Carpintero, V., Ziarsolo, P., Menda, N., Muller, L.A., Blanca, J., Cañizares, J, van der Knaap, E., and Díez, M. J. (2020) Exploiting the diversity of tomato: the development of a phenotypically and genetically detailed germplasm collection. Horticulture Research: 7.
Razifard,H., A. Ramos, A. L. Della Valle, C. Bodary, E. Goetz, E. J. Manser, X. Li, L. Zhang, S. Visa, D. Tieman, E. van der Knaap, A. L Caicedo (2020) Genomic Evidence for Complex Domestication History of the Cultivated Tomato in Latin America, Molecular Biology and Evolution 37: 1118-1132.